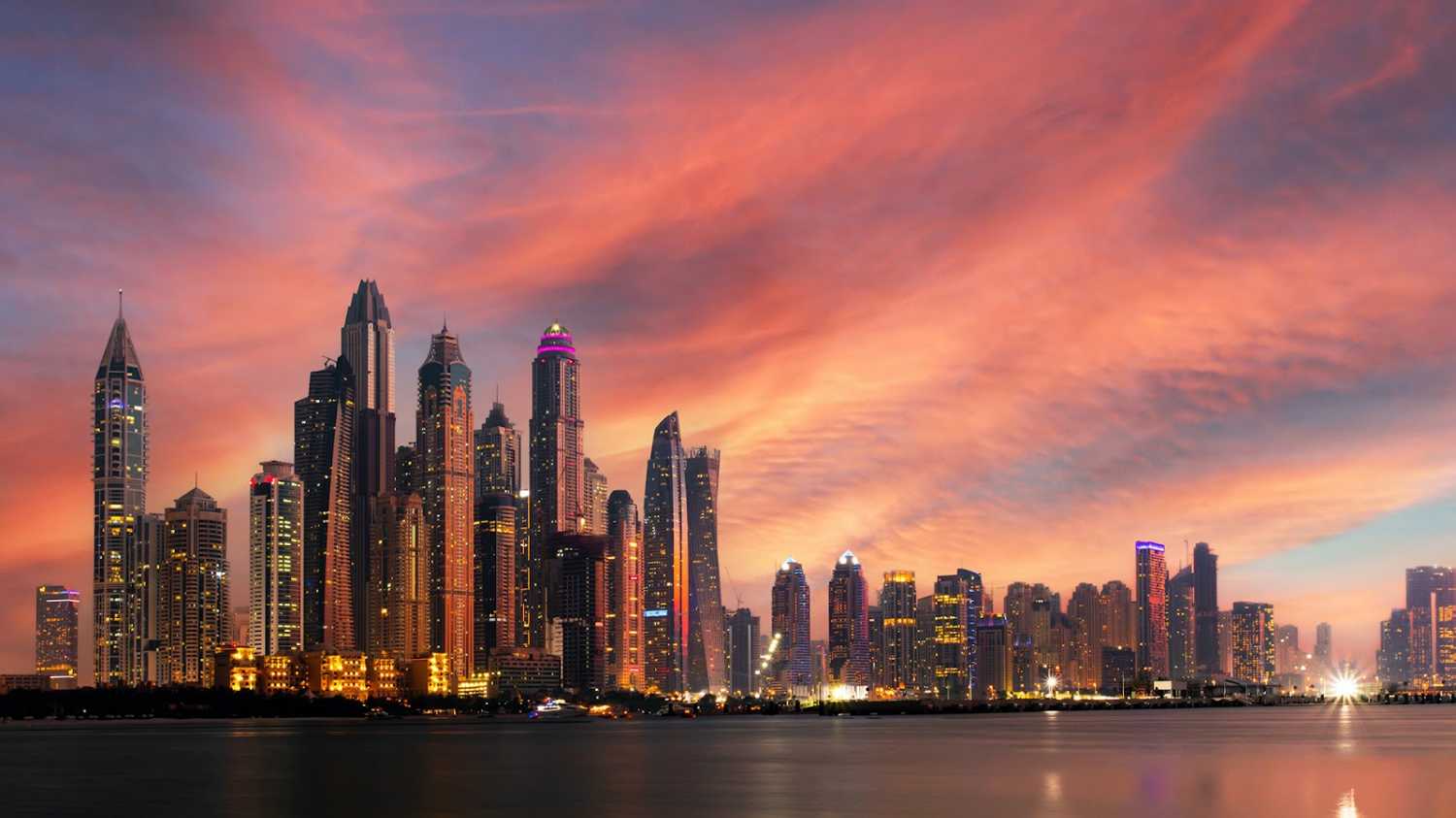 Dubai Marina is one of the most popular and prestigious areas of the city. Surrounded by famous skyscrapers, elegant yachts, The Walk promenade, and numerous excellent hotels, it offers a great location for a visit to Dubai.
Five Stars  
The Ritz-Carlton, Dubai  
A vibrant and ambient hotel located on a private beach in the northern part of The Walk promenade. This location gives the hotel two advantages: on the one hand, guests have direct access to the plenty of local amenities – there are exquisite restaurants, designer boutiques, jewelry salons, and even cinemas. On the other hand, guests can escape from the hustle and bustle of the big city at any time to a quiet and peaceful beach with stunning views of the Persian Gulf.
It is also the perfect option for those tired of skyscrapers. Instead of the typical high-rise towers of Dubai, the resort is designed as a six-story Mediterranean palace. All the buildings are surrounded by a magnificent tropical garden with shady paths and fountains, which is not only beautiful but also important for comfortable living in the desert climate.
The hotel includes cozy rooms for two guests and spacious suites for large families, and all residences offer a view of the Persian Gulf. For guests, there is a luxurious spa center with a wide selection of signature body and facial treatments, and an ultra-modern fitness center is located next to it.
Beach area
Address Beach Resort
A prestigious hotel that occupies one of the main architectural landmarks of the area and is located right on the shore of the Persian Gulf. From here, you can walk to the famous Marina Beach or the southern part of The Walk promenade in just a few minutes.

Guests have a wide selection of rooms and suites with views of the marina or the gulf. Each unit comes with a long list of amenities, from high-speed Wi-Fi and a coffee machine to a safe and minibar, and room service can be ordered through a special iPad app. All rooms feature special guest areas and separate bathrooms.
On the hotel grounds, there are several pools for children and adults, a fitness center, a kids' club, and a beauty salon. The luxurious spa center occupies the 75th floor, and there is a huge infinity pool on the 77th floor.
Five restaurants are responsible for the culinary program at the resort, where you can try Lebanese, Brazilian, Asian, and international cuisine.
Stylish Address Beach Resort hotel located on the first line of the sea.
InterContinental Dubai Marina
Another brand that needs no introduction, InterContinental Dubai Marina occupies three futuristic towers in the heart of the area and boasts excellent transport accessibility. The nearest Dubai tram station is located right at the entrance, and Sheikh Zayed Road can be reached in just five minutes.
Guests can choose from rooms, suites, and entire residences – it is easy to find options for solo travelers and large groups. The list of amenities includes free Wi-Fi, work desks, coffee machines, and 40-inch TVs. Some rooms offer picturesque views of the yacht harbor.
The hotel also offers a temperature-controlled swimming pool, free parking, an ultra-modern fitness center, and an excellent spa salon where guests can undergo restorative procedures. The resort's staff will also fulfill more individual requests, such as babysitting or helping to book event tickets.
There are three restaurants on the resort grounds where guests can try Mediterranean and Indian dishes, as well as American classics like steaks and juicy burgers.
InterContinental Dubai Marina
Four stars
Wyndham Dubai Marina  
Wyndham Dubai Marina is located in the southern part of the district, where the marina is connected with the waters of the Persian Gulf. The road to The Walk promenade, Marina Beach and JBR Beach, or the nearest Dubai Tram stop from here will take ten minutes — or you can use the hotel's free shuttle, which will take you to all the main points of the area.

Each room and suite features air conditioning, a TV, a minibar, a work desk, a safe, and a coffee machine. Thanks to the hotel's location, almost every unit offers views of the sea or the marina. Free Wi-Fi is available throughout the resort, and 24-hour room service allows for a spontaneous dinner at any time.
The list of additional amenities includes a fitness club, a pool, and a spa center with a sauna and a steam room. Those who come to Dubai for work can use the conference room for meetings or brainstorming. Free parking eliminates the need to search for parking spots in the city.
The hotel also features several restaurants, such as The Blacksmith steakhouse and the Terrazza by Alloro pizzeria.
Wyndham Dubai Marina
Millenium Place Marina
The Millennium Place Marina Hotel is located on El Marsa street, at the eastern border of the neighborhood. From here, you can quickly get to almost any part of Dubai, both by public transport and by car. The nearest metro station is just a few minutes' walk from the resort, and all the interchanges on Sheikh Zayed Road can be reached in about ten minutes.
All rooms are fully equipped with everything you need for living, from wardrobes to air conditioning and ironing facilities. The modern interiors provide a high level of comfort, and thanks to excellent sound insulation, you can forget about noisy neighbors. Some rooms offer views of the Marina, while others offer views of the city. There are several options with balconies.
The hotel has two conference rooms, a spa center, and a temperature-controlled pool on the premises. Laundry and currency exchange services are also available to guests, and room service is available for an additional fee.
The resort offers several meal plans, from breakfast to all inclusive. The main restaurant serves international cuisine, and there is also a Japanese restaurant and a bar.
Hilton Dubai The Walk  
Hilton Dubai The Walk is a project by Hilton located in the central part of The Walk promenade, an ideal option for those who love shopping and active nightlife. The beach can be reached in just a few minutes, and all kinds of restaurants and boutiques start right outside the main entrance. It is also convenient to get to other parts of Dubai from here, as there are bus and tram stops nearby.
The hotel offers a wide range of accommodation options. Solo travelers and couples can stay in studio rooms, while families can enjoy spacious suites that can accommodate up to 8 people. All rooms have air conditioning, a minibar, a work desk, a safe, a television, and other basic amenities. The windows offer views of the Persian Gulf and the marina.
The list of additional amenities includes an outdoor pool, a gym, and a spa center with many body treatments. There is free parking on the resort grounds, so you don't have to worry about where to leave your car overnight. The hotel also offers a free shuttle service to the Mall of the Emirates, and guests have access to the infrastructure of the neighboring Hilton Dubai Jumeirah hotel.
There are 12 restaurants for dining, including a rooftop lounge, a stylish Thai bistro, and even an Irish sports bar.
Three Stars  
Rove Dubai Marina  
Rove Dubai Marina is located next to Wyndham Dubai Marina, which we mentioned above. The hotel offers only one room type, which has an area of 26 square meters. The basic amenities include a sofa bed for a child, a mini-fridge, an electric kettle, and a television. The windows offer views of the marina or the city.
Additional facilities include an outdoor pool with adjustable water temperature, a gym, and ice generators that are located on all floors and can be used by guests for free. The administration also provides airport transfers. Free Wi-Fi is available throughout the hotel.
The main restaurant serves buffet breakfast and à la carte lunches and dinners. Guests can choose from breakfast, half-board, and full-board meal plans.
Jannah Place Dubai Marina  
Another hotel in the southern part of the area, but this time right by the marina. The Walk promenade can be reached in 10 minutes, and Marina Beach is a 15-minute walk away. A great option for those who want to be close to the center of events but do not want to sacrifice peace and quiet.
The hotel offers studio apartments and two-bedroom suites. Each residence is equipped with its own mini-kitchen with a fridge and stove, as well as a full range of basic amenities such as air conditioning and a safe.
The resort has free parking, a gym, a sauna, a steam room, and a jacuzzi. Guests can also order food and drinks in their room. The hotel offers all the main meal plans: breakfast, half-board, and full-board.
Jannah Place Dubai Marina
Pearl Marina Hotel Apartments
A beachfront apartment hotel located in the quiet and peaceful area of Dubai Marina, just like Jannah Place Dubai Marina, from where you can easily reach more lively parts of the city.

Instead of hotel rooms, guests are offered to stay in apartments. They are much better suited for long stays, as they not only have fully equipped kitchens but also familiar apartment layouts. Guests can also take advantage of concierge and room service.

The hotel offers free parking, a fitness club with modern cardio equipment, and luggage storage. Upon request, the administration can organize airport transfers. Guests have several meal plans to choose from, and the culinary program is overseen by The Market Restaurant & Cafe.
Contacts and booking
Other accommodation options

If you plan to stay in Dubai for a long time, it is worth considering buying an apartment in Dubai Marina – it will be more convenient and profitable. The Whitewill team will help you find a suitable option and conclude a contract on favorable terms: to do this, call +971 (4) 450 2640 or write to us on Telegram. We work with love and without commission.