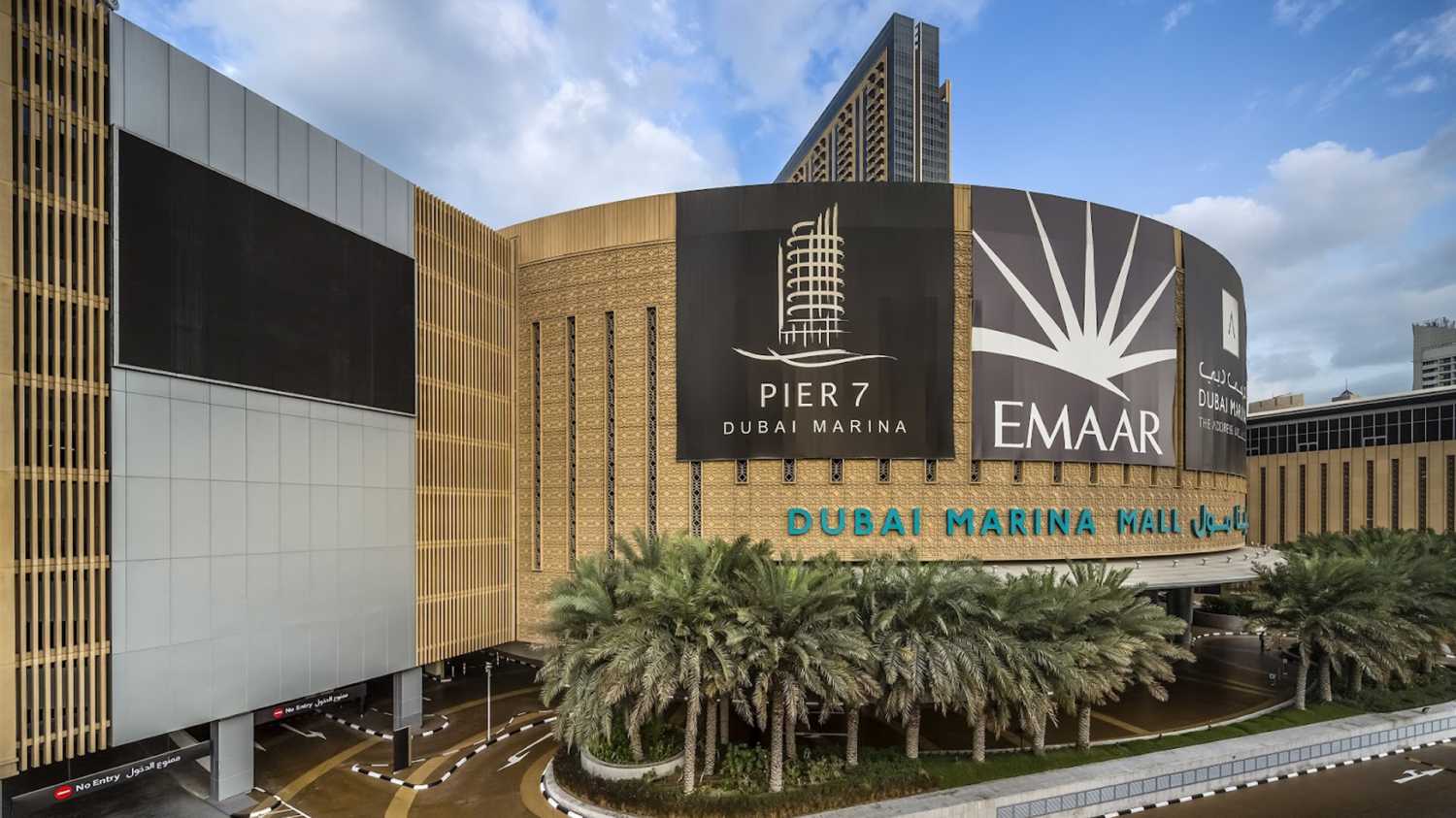 Dubai Marina Mall is one of the largest shopping centers in Dubai. The article contains information about the Dubai Marina Mall stores, working hours, photos and the official website.
Dubai Marina Mall is a spacious four-story mall with boutiques of popular brands, as well as a premium cinema Dolby Cinema — Reel Entertainment. In this guide you will find which shops are worth visiting, where to dine and how to have fun in the mall yourself and with children.
Introduction to Dubai Marina Mall  
Dubai Marina Mall is one of the most popular shopping centers in Dubai. The location is quite good – it is located in the Dubai Marina area, not far from Marina Beach and the highest Ferris wheel in the world – Ain Dubai.
The total area of Dubai Marina Mall is 390,000 sq ft. There are 140 retail outlets on 4 floors of the mall. You can find here everything you need: whether it's a new smartphone or a formal suit. If you struggle with what to buy, just ask your friends or family via chat apps – free WI-FI is available throughout the shopping center.
Shopping makes everyone hungry, so you deserve a rest and a delicious lunch. Choose according to your mood – there are 21 options in the Mall where you can dine, from local restaurants to the well-known fast food chains.
When all the purchases are made, watch a new movie at the cinema. Dubai Marina Mall is more than a shopping center, but also an entertainment hub for adults and children. For the youngest visitors, there are amusements, for example, you can ride a Mini Train or jump on trampolines at the Jump N Fun kids center.
How to get to Dubai Marina Mall?  
If you decide to shop at the Dubai Marina Mall, go straight to the address: Dubai Marina, Al Marsa Street, 66.
There are three ways to get to the mall.
By public transport  
The fastest way to get to the Dubai Marina Mall is by metro. The nearest station is called Dubai Marina Mall. It only takes 3 minutes to walk to the shopping center.
By car  
The most comfortable option is to get there by private car, car sharing or taxi. There is no problem with parking spaces – the Dubai Marina Mall has vast underground parking. It is free of charge during weekends and holidays. Otherwise it's free for the first three hours, furtherly it costs 20 dirhams for each hour.
An extra bonus for cinema visitors is free parking for an additional 2 hours.
Evening illumination of the facade
By water
The most unusual type of transport for tourists is a boat taxi. However, this is also a way you can get to the Dubai Marina Mall. The water trip will be lovely and fancy, providing unique views of skyscrapers and a sea breeze. To call a boat, follow the instructions on the official taxi website.
Map of the shopping center and navigation  
You have reached the shopping center — now you need to navigate inside.
For a detailed location of shops on all 4 floors, see the official website.
Or use the touch screen to get directions to the desired boutique in the Mall.
What shops are worth visiting?  
Lower Basement Level  
Shopping tour begins already on the ground floor. Visitors are greeted by makeup and drug stores. If you need to buy skincare products, a new lipstick or painkillers, go to Boots pharmacy. Sport fans will find all kinds of protein bars, smoothies and essential vitamins for athletes in Planet Nutrition.
Most visitors to shopping centers come to refresh their wardrobe or buy new clothes. The well-known casual clothing brand H&M will help to handle this task. Moreover, the store is located on 2 floors. So here you can find a men's suit, a new dress or a kid's jacket. More children's apparel, goods and toys are located in the Mothercare store.
If you need to furnish a house, you may stay on this level. Soft blankets, scented candles, sets of glasses and more – you can find all this in home comfort stores: Home, Q Home Décor. Traditional Arabic souvenirs are also sold nearby in the AJ Jaber Gallery store. Don't forget to buy souvenir magnets, camel figurines or a sand painting from the Dubai desert.
Tourists often bring digital equipment and new smartphones from the UAE. Local product range and reasonable prices increase the demand for such goods. Go for the latest phone, wireless headphones or tablet to Grand Stores Digital or Axiom Telecom on the basement floor.
Interior of the Dubai Marina Mall
Ground Level
The main fashion boutiques are located at the Ground Level: Tommy Hilfiger, Levi's, Boss, Balmain, Guess, Pierre Cardin, Mango. Pick a style for any occasion: a formal suit for an office, a warm coat, skinny jeans, an oversized jacket, a leather belt, a bag or a wallet. In particular, we advise men to head to Balmain and Springfield stores for a cold-weather jacket, sweatshirt or hoodie.
You will definitely find that very special pair of shoes, because the store range at Dubai Marina Mall is wide: Ecco, Aldo, Novo, Kathy Van Zeeland, Nine West. Nike and Reebok feature brand new sneakers. The only thing you need is accessories as a finishing touch, try visiting Pandora, Accessorize, Folli Follie, Kern, Evita Peroni, and some makeup at MAC, The Body Shop, Loccitane, Sephora.
First Level  
Finish your image in the boutiques with women's and men's apparel on the first floor of the Dubai Marina Mall: Desigual, Diesel, Karen Millen, Bebe, Nautica, Paul&Shark. Another place where you can find sneakers of your dreams is Adidas. For sports equipment, a warm sports jacket, a snowboard or a summer swimsuit, come by Quicksilver and Roxy. Trail shoes, tennies and soccer cleats are also in stock.
Second Level  
After shopping, you deserve a rest and a delicious dinner. Choose according to your mood and taste, there are 21 dining options in the Mall, from local restaurants to the well-known fast food chains.
And after dinner, head for the new comedy movie at the Reel Entertainment Cinema.
Useful navigation for the tourist:  
Supermarket Dubai Marina Mall  
On the ground floor of the Dubai Marina Mall there is a large Waitrose supermarket. Fresh vegetables, fruits, greens, meat steaks, fish, pre-prepared meals, vegan products, baby food – you can find everything here. In the non-food department you may choose goods for your home:kitchen-ware and utensils, flower pots, cleaning products and more. See the full list of products on the official website.
Currency exchange  
To exchange currency, go down to the basement level of the Mall and go to Emirates NBD, Redga Al Ansari Exchange.
Do they sell alcohol here?  
There is only one Waitrose supermarket in Dubai Marina Mall and it is not licensed to sell alcohol. Therefore, it is only possible to buy soft drinks.
Places to dine: restaurants and cafes  
The Dubai Marina Mall has 21 options for dining, from local restaurants to the well-known fast food chains. Go to the Carluccios restaurant for Italian pasta with seafood, for Japanese rolls or spicy tom yum – YO SUSHI. If you are in a rush and want to continue shopping as soon as possible, choose fast food: Mcdonalds, KFC, PIZZA HUT. Tortilla Real California Burritos & Tacos provides a quick and delicious Mexican meal. Juicy burgers, fries and nuggets are available not only in fast food chains, but also in SALT cafe.
Try traditional Arabic cuisine at FILFUL, and Indian cuisine at Access or Zafran restaurants. You can buy coffee at Starbucks or Caffe Nero. Enjoy a croissant with a cup of cappuccino at the Le Pain Quotidien bakery. Indeed, in Dubai Marina Mall you will find the best places for every taste, budget and mood.
What entertainment is there for adults and children?  
It is not necessary to come to Dubai Marina Mall for shopping. Dubai Marina Mall is also ideal for a Saturday break in the premium Dolby Cinema – Reel Entertainment. Meanwhile your kids will love to return here to visit the Jump N Fun trampoline center again.
Casual clothing Stores
Sales and special events
Almost every week the Dubai Marina Mall hosts events: from festivals with circus artists to concerts with traditional Arabic dances and henna painting for everyone.
Follow the schedule of upcoming events on the official website of the mall.
If you want to buy everything you need with a discount, come to Dubai Marina Mall from August 28th to September 2nd. At this time, stores arrange Sale Season, so you can save money and buy something extra.
We also advise you to purchase an Emaar gift card, which provides 10-15 percent discounts on goods, food, drinks and cinema tickets for its owner. The card is valid for one year since purchasing.
Dubai Marina Mall official website  
On the official website you can find information about discounts, working hours, or discover the location of your favorite store.
Contacts and working hours of the shopping center  
Dubai Marina Mall is open daily from 10:00 to 23:00. From Friday to Sunday, restaurants and supermarkets are open from 10:00 to midnight.
Shopping center contact phone: +971 4 436 1020
Email: GuestServicesDM@emaar.ae
Tips and rules for visiting tourists  
To make your visit to the shopping center as comfortable as possible, adhere to the following rules:
Wear clothes that cover your shoulders and knees; 
Pets are not allowed in the mall; 
Smoking is allowed only in specially designated areas;
Drinking alcohol in the Dubai Marina Mall is strictly prohibited; 
Refrain from public displays of affection.
Conclusion
Be sure to visit Dubai Marina Mall for shopping and entertainment. Here you will find everything you need: from fresh fruits to trendy apparel and a new smartphone.
If you want to buy an apartment near the shopping center, call +971 (4) 563-5256, and our experts will send a brochure for your request, engage a tour and help with legal issues.