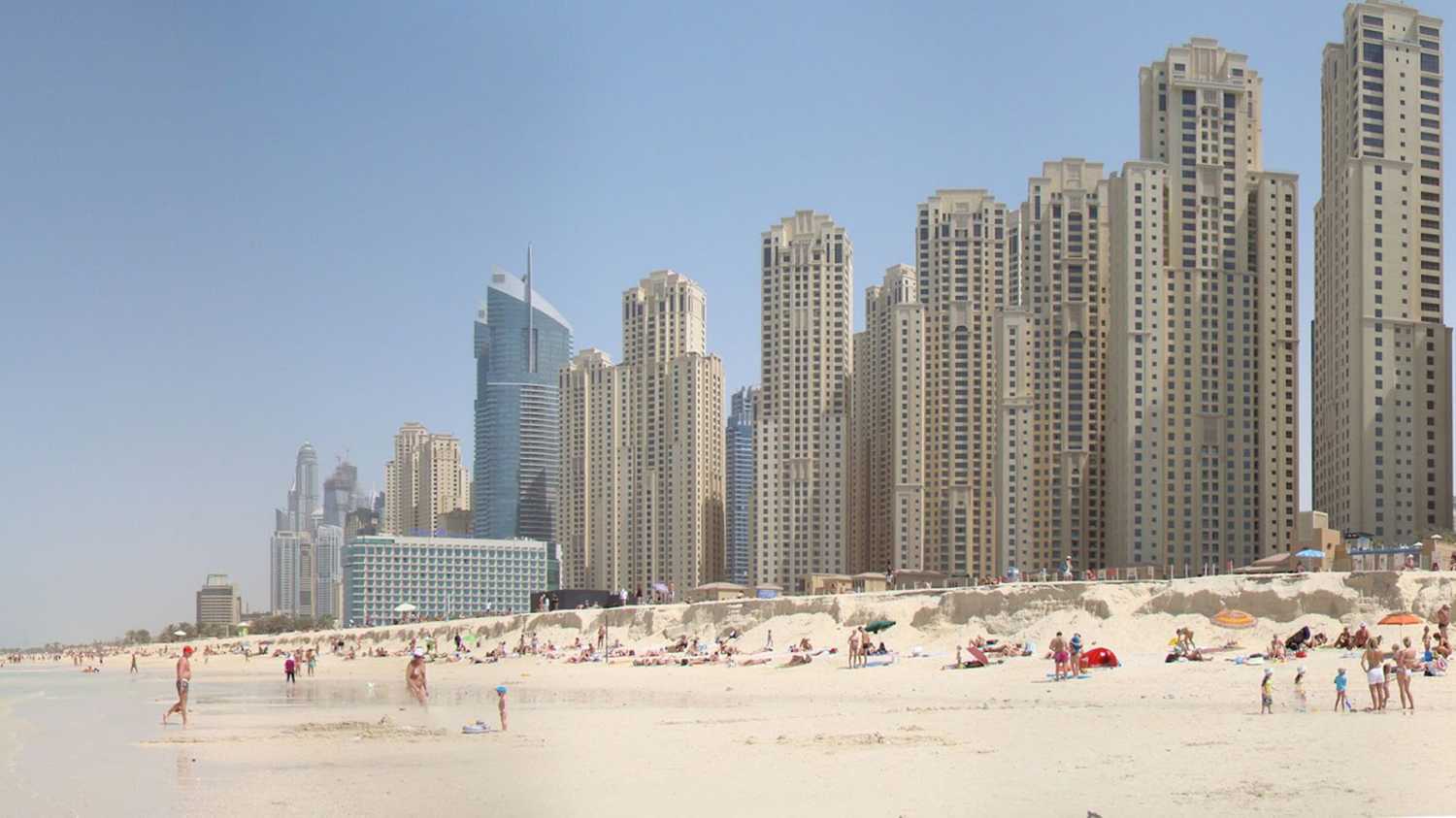 Dubai is known not only for breathtaking skyscrapers and national income, but also for modern beaches that have everything for a great seaside vacation. In this article, we will talk in detail about the famous Marina Beach: how to get there and most importantly – how to have a good time there.
What is this place 
Marina Beach is one of the most popular beaches in Dubai. It has earned its reputation thanks to its magnificent views and rich infrastructure: the majestic beauty of the Persian Gulf combines here with an extensive collection of premium hotels, restaurants, and boutiques. However, visitors are attracted not only by the abundance of entertainment but also by the quality of the beach itself – fine and soft sand, clean water, and smooth entrances into the water without any unexpected surprises. There are some shallow areas, which are perfect for beginner swimmers and kids.
Pros and cons  
What Marina Beach is sure to please with:
convenient location; 
cleanliness; 
amenities – there is always something to do.
And what can be disappointing:
a lot of people; 
no natural sources of shade, like trees and palms.
Where is the beach located  
Marina Beach is located in the Dubai Marina area and runs along The Walk, the main shopping promenade in Dubai. This is one of the city's main attractions, where you can enjoy tasty food, shop, ride bicycles, have fun with friends, and simply admire the views. The area itself and its famous marina are considered Dubai's landmarks along with the Burj Khalifa and the Burj Al Arab hotel.
How to get there
By public transport  
Bus
There are three buses that go to the beach: 8, 84, and night N55. You need to get off at Jumeirah Beach Residence 2. Routes 8 and N55 are suitable for those who live along the coast, and 84 is for residents of the central part of the city.
Tram
The tram stop is located a few meters from the bus stop and has the same name. If you want to take a leisurely walk and enjoy the skyscrapers and yachts, you can get off at the Jumeirah Lakes Towers, however it will take you 10 minutes longer to walk.
Metro
The DMCC station is located on the southern border of the area, and it takes about 20 minutes to walk from there to the beach. If you want to stroll along The Walk promenade, get off at the Sobha Realty station: your journey will take 40 minutes, but you will have the opportunity to browse local shops and enjoy delicious food.
A bit further away is Al Khail, but we do not recommend walking from this point: part of the route goes along highways and major road junctions and is unlikely to bring much pleasure.
Сar 
There are not so many highways in Dubai, and almost all of them lead to Sheikh Zayed Road. The main thing is to get to this highway, and then just drive straight to the sign for Dubai Marina – and not miss the right turn.
Keep in mind that you won't be able to park your car near the beach itself. Parking in Marina may be a problem: there are few places, and the fee prices are high. It is practically impossible to park a car on the street. The best possible option is to use the underground parking at Dubai Marina Mall, but there is no guarantee that there will be free spaces there either. Keep this in mind when planning a trip to the beach.
Who comes here to relax  
The most common public here is wealthy tourists: you can hear practically every language in the world on the beach. Marina Beach is also very popular among families, because the local amenities include entertainment for all ages. You should also be prepared for the fact that there are always a lot of people here.
If you are looking for tranquility, it is better to find some other option – many residential developments on the coast offer private beaches only for residents.
Marina Beach
Things to do
Sunbathe and swim  
You can rent sun loungers and umbrellas on the beach. One sun lounger costs 110 dirhams – pay once and use it all day. Or you can simply bring your own towels, although it won't be very comfortable without umbrellas as there are no sources of shade here, and at some point you'll want to hide from the blazing sun of the desert.
AquaFun is located a few meters from the shore – the largest inflatable water park in the world. The project is a hundred-meter obstacle course that is equally popular among children and adults. Working hours are from 9:00 AM to sunset, and each ticket gives full access for the entire day. You can splash around, take a short break, and then continue your adventures.
Feel the adrenaline rush  
Next to the beach is the famous extreme sports center SkyDive Dubai – an excellent option for those who want to experience such an adrenaline rush that will make their hearts go faster. Novices can try skydiving and fly at a speed of 200 km/h with an instructor, while experienced parachutists have the option of solo jumps. If jumping is scary, but you still want to fly, you can try the wind tunnel – the experience is almost the same, but no risk. There is also an option to fly over the city in a gyrocopter.
You can find out all the details and book a flight on the website. A jump with an instructor costs 2,200 dirhams, a solo jump is around 500 dirhams including equipment, and a gyrocopter flight costs 1,199 dirhams.
Skydiving Club
Arrange a gastronomic journey
The beach offers an excellent selection of high-end restaurants and cafes. For those who prefer common cuisine, there are pizzerias and burger joints like Shake Shack and L'Antica Pizzeria da Michele, as well as iconic chains like Starbucks.
However, there is also space for gastronomic experiments: Bombay Bungalow serves authentic Indian dishes, prestigious Aprons & Hammers specializes in seafood, and Bosphorus Turkish Cuisine will pleasantly impress you with the tastes of traditional Turkish cuisine. The list doesn't end there – nearby you can find Japanese and even Greek cafes.
After a delicious dinner, you can move to The Cheesecake Factory and try the signature dessert from the famous American brand, or visit Menchie's Frozen Yogurt with dozens of different flavors and toppings.
Venture out into the open sea  
It's time to remember why Dubai Marina is called that in the first place: it's a place for yachts. A few minutes' walk from the beach, you'll find a place where elegant white boats are lined up in neat rows. Many of these ships can be rented – dozens of companies offer their services here. All you have to do is find the right one and set sail. You can take a guided tour, where the team takes care of all the yacht management, or if you have a license, you can go on a solo sailing trip – just you, the sea, your family and friends.
To make it easier for you to start your search, we've compiled a few reliable rental bureaus: try contacting Xclusive Yachts, Gold's Yachts, and Royal Blue Coast Yachts Rental. You can also use the ad aggregator Click&Boat, which directly connects yacht owners and those who want to ride them. Prices start at 300 dirhams per hour.
Rent a yacht for a cruise
Ride on the Ain Dubai Ferris Wheel
Ain Dubai is the biggest Ferris wheel in the world, reaching a height of 250 meters at its highest point, and takes 40 minutes for one rotation. In addition to the breathtaking views of the city's skyscrapers, desert, and sea, it offers a wide range of event management services – you can organize a birthday party, make a proposal in a formal setting, or simply book a cabin with a bar.
Ain Dubai is located on the Bluewaters Island. Last year, the wheel was closed for repairs, but it will soon be operational again.
Finally  
Do you want to buy an apartment in Dubai Marina for living or investment? We can help. Simply follow the link to our website page and check out dozens of current offers on the Dubai real estate market. And if you don't want to spend time on it, call us at +971 (4) 563-5256 – our experts will find the most suitable options for you and help you navigate all the legal concerns. With love and without commission.